---
BERKSHIRE CLEAR ALIGNERS FAQS
---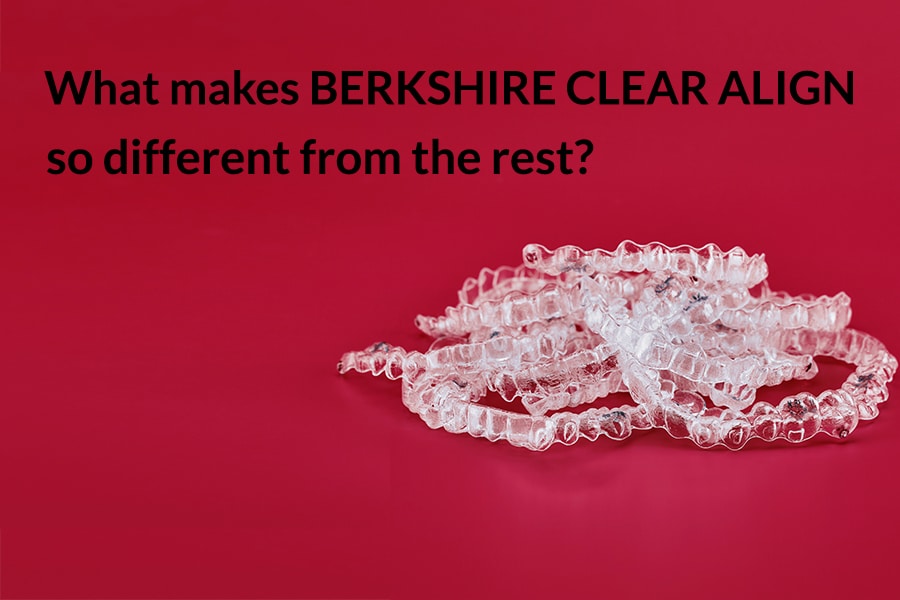 ---
If your smile needs minor adjustment, Berkshire Clear Align could be the perfect solution for you!
---
Invisalign was the first clear aligner to provide an alternative to metal braces and is a recognizable brand to many people. Treatment consists of removable custom made clear plastic trays that will gradually align your teeth with each successive tray.
Any time you apply a force to a tooth it will move. It doesn't matter if this force comes from an aligner or metal braces. On average, we plan our aligner treatment to apply sufficient force to move teeth .25 mm per aligner. Each aligner is worn for 7-10 days and then changed for the next one in the series. Once you have progressed to the last aligner, you should be looking at your new straight smile.
The best way to find out is to make an appointment for your free digital impression. There is no charge for your initial visit, digital scan, and your personal customized treatment plan.
Your first visit will be for initial records, which consist of a digital impression and photographs. A treatment plan will be available to you within 48 hours. If you approve the plan, aligners can be ready for you the following week. After the first aligners are delivered, you will be seen 10-12 weeks later. In that time period, you will change aligners every 7-10 days.
It varies depending on the company. Most DIY companies such as SmileDirect or Byte only require an impression, which you have to create by yourself in your kitchen. We take a digital impression, a series of photographs, and a short medical history. The whole process takes 15-20 minutes and the best part is that there is no fee for this service.
Digital impressions is the newest technology for obtaining models/molds of your teeth. The Carestream 3D Scanner takes a highly accurate digital impression of your teeth and jaw using a compact, hand-held wand in as little as two to three minutes. The laser renders a digitally perfect 3d impression of your teeth and soft tissue structures without goop, gagging, or discomfort. The new technology eliminates the need for tray and putty impressions as well as the possibility of multiple rounds of physical impressions that can be rejected, broken, or misplaced. The Carestream 3D Scanner ensures a more accurate impression from the start, resulting in improved treatment and a more comfortable patient experience.
Treatment time will vary depending on the amount of movement needed. Most corrections such as post orthodontic relapse can be accomplished within 3-6 months with good compliance. More complex cases may take up to 12 months.
We schedule appointments every 10-12 weeks, although you can connect to the office at any time with a virtual teledentistry visit using SmileSnap on our website.
For optimum speed of correction, we recommend that aligners be worn 22 hours per day.
We usually recommend that aligners be changed every 7-10 days. This pace will typically produce the fastest results.
A refinement scan is a digital impression that is taken at approximately 3 months to evaluate progress and identify teeth that are showing resistance to movement. This scan will also determine the number of aligners that will be needed to complete treatment.
Attachments are small tooth colored shapes that are bonded to your teeth that allow aligners to grip your teeth better. Because our materials and fabrication process are far superior to other aligners we do not need to implement them as often. The majority of our cases are treated without the need for any attachments.
We offer flexible affordable monthly payment plans. We also offer financing through CareCredit. CareCredit is a third party financing program with attractive terms.
Flexible savings accounts, or FSA, and HSA, health savings accounts, are accounts where you set aside pretax dollars throughout the year. You may be able to use these accounts to cover Berkshire Clear Aligners. Check with your account manager or accountant.
In-house fabrication of aligners at Berkshire Clear Align
No markup or fees paid to parent companies such as Invisalign
Reduced clinical visits due to greater range of motion of aligners
Reduced appointments with remote monitoring
Faster movement and shorter treatment time due to superior materials
In some respects Berkshire Clear Align is similar to other aligner treatment. We use an aligner software similar to that first introduced and patented by Invisalign. Those patents expired in 2018 which explains the abundance of DIY aligner companies that have emerged in the past two years. That is where the similarity ends. ULab systems software is an improved version of Invisalign software that calculates the precise force needed for a specific tooth movement and is available only to orthodontists.
---
Why? Because ULab feels orthodontists are the most qualified to provide the optimum treatment.
Secondly, every step of process is determined and monitored by an orthodontist: consultation, treatment planning, 3d printing, aligner fabrication, aligner delivery, treatment, and retention.
Lastly, our materials are superior. Zendura FLX is the gold standard for comfort, crystal clarity, strength, and precision.
---
Ready to Learn More about Berkshire Clear Aligners?
---